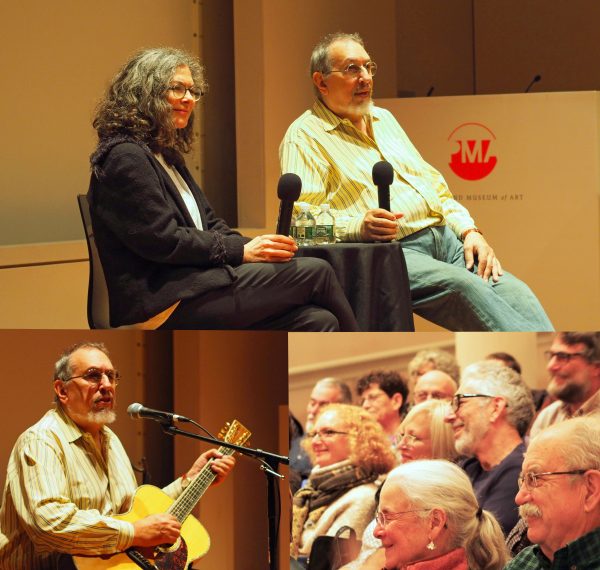 David Bromberg at the Portland Museum of Art December 2nd
David Bromberg: Unsung Treasure an Unqualified Success!
Thank you to everyone who joined MJFF for David Bromberg: Unsung Treasure December 2nd  at the PMA.
This special music celebration, which sold out a month before the event, featured Unsung Treasure, a documentary about Bromberg.
Following the screening, Bromberg and the film's director, Toni Beth Kruvant discussed the film and graciously answered questions from the audience.
Finally, Dave Bromberg performed … until the museum closed!
Thank you to our sponsor Greenhut Galleries and to the Portland Museum of Art for hosting.
We are looking forward to the 2019 Festival in March. Stay tuned for details!
Through a diverse array of independent films, the MJFF provides culturally relevant and historically significant cinema for audiences from across Maine and beyond. The Portland Museum of Art is proud to partner with Maine Jewish Film Festival, promoting new ideas, inviting discussion, and strengthening the cultural economy in Maine.
Mark H.C. Bessire, Director, Portland Museum of Art
Thank You To Our Sponsors
Supporting Foundations
---
Bernard Osher Foundation
---
Bernard Osher Jewish Philanthropies Foundation
---
Edward H. Daveis Fund of the Maine Community Foundation
---
Equity Fund of the Maine Community Foundation
---
Jewish Community Alliance
---
Lunder Foundation
---
Maine Humanities Council
---
Margaret E. Burnham Charitable Trust
---
Morris J. and Betty Kaplun Foundation
---
Morton-Kelly Charitable Trust
---
Moser Family Foundation
---
Sam L. Cohen Foundation
---
Simmons Foundation
---